How Much Budget Do You Need For Your Bathroom Renovations?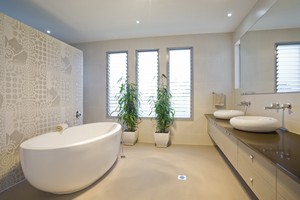 Before diving into any project, you want a clear idea of the cost. This is what helps you determine if you are ready financially to start a job, as well as helps you get a budget in place. With design, materials and labor, the average bathroom remodel costs between $8,000 and $10,000.
Of course there are ways to cut costs - without cutting corners! Just like there are ways to exceed or double that cost, by using all high end, luxury fixtures. That is up to you, your contractor and your budget capabilities, but we can help you better understand where those budget dollars go.
Estimating the Cost for Your Bathroom Remodeling
If you are in the early stages of preparing to tackle bathroom renovations for your Flathead Valley home, here are some considerations to make:
It should come as no surprise that the cost of your project will increase greatly if you need to alter the layout, as part of the new design. This is especially true if you will be relocating electrical wiring, walls or plumbing. If you want to save money, try to leave the layout as-is, and focus on changing the fixtures.
Some homeowners get financially savvy by only replacing some of the fixtures. While it is a good idea to do it all at one time, while you already have the professional contractor there, you may only care about upgrading certain features. For instance, maybe you replaced the toilet a few years ago when it broke anyway. So now, you are fine with leaving it right there and spending your money on other features, like a deluxe shower and tub.
The more involved the job, the higher the cost of the labor. Depending on how elaborate the job is, the cost of workmanship can be twice as much as what the materials cost. This is why some people make the mistake of attempting to DIY the job. The problem is that usually doesn't provide the desired results, so you are not really saving any money.
Aside from new fixtures that range in price from $100-$600 (or much higher depending on how luxurious you want to go), you also have other costs like lighting, flooring and cabinets or a vanity. Factor in some other miscellaneous expenses, and leave some wiggle room for surprise costs, and you have a pretty good estimate of what your new bathroom will cost you.
Hire a Reputable Remodeling Contractor
For the best in local service, the name to call on is Lost Creek Construction, your bathroom and kitchen remodeling specialist. We can ensure that you get results that you will love, for a price that you can afford. Quality matters for every aspect of your home, so don't settle for inferior workmanship or materials, just because it's "only a bathroom."