Top 4 Reasons to Remodel Your Bathroom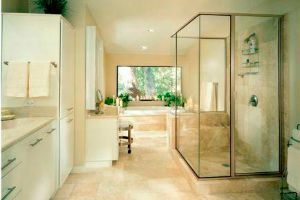 As a Flathead Valley homeowner, you probably find it important to make sure your home stays both inviting and functional. However, one room that often gets overlooked as purely utilitarian in nature is the bathroom. Perhaps you haven't given much thought to your bathroom lately, or maybe you have but you don't know what you can do to make it more welcoming and functional for your household's requirements. If you are thinking about upgrading your outdated bathroom, consider the added value, comfort, and function that a brand new bathroom could bring to your home. The professionals at Lost Creek Construction specialize in remodeling Flathead Valley homes so call today to determine if a bathroom renovation is right for you.
Add Value to Your Home
Most savvy homeowners are always thinking of ways to improve the value of their homes. After all, your house is as much of an investment as it is a home. Whether you are considering selling your Flathead Valley house or you just want to add instant value to your home, a bathroom renovation is the way to go. Home buyers often look very closely at the bathrooms in a potential home, so ensuring your bathroom is up-to-date and welcoming is a great investment for your household. Even small upgrades such as replacing the tile in the shower can make bathroom more appealing. However, if you really want to get the most impact, consider updating the look and feel of your entire bathroom with new tile, toilet, vanity, and bathtub.
Replace Old Equipment
Even if you are not looking to add value to your home, it is important to replace the equipment in your bathroom. Sinks, toilets, and bathtubs can get worn down with age and become cracked, rusty, or leaky. Unattractive rust and cracks are bad enough, but leaks are dangerous and can lead to mold or water damage in your home. A bathroom renovation by our Flathead Valley remodeling team at Lost Creek Construction can help ensure that all of your bathroom equipment is brand new and working well. While you're upgrading, you can even select green, budget-friendly options for your bathroom, such as a low-flow toilet. Aside from the functional benefits of replacing old equipment, there are aesthetic perks as well. New bathroom fixtures and features can refresh the space and make it feel more modern and inviting.
Make a Small Bathroom Feel Larger
If your Flathead Valley bathroom feels too small or cramped, a bathroom remodel can help transform the space into a more airy and luxurious room. By choosing soothing, neutral colors and making smart use of lighting, even a small bathroom can feel like a spa. Renovating your bathroom gives you lots of options to make the space feel large, from installing plenty of white tile and glassy, reflective surfaces to maximizing natural light and adding recessed and vanity lighting. Choosing the right vanity for the space is another way to make the most of your small bathroom. A compact vanity or pedestal sink doesn't take up precious square footage the way that a larger one would. Lastly, in order to make the room feel larger it may be a good idea to take advantage of vertical space. Open shelving on the walls can create visual interest and storage for all your bathroom necessities, so you do not have to choose between style, comfort, or storage space.
Design Your Bathroom to Work For You
If you have always imagined having a bathroom with customized storage solutions, or wanted a bathroom that felt like a quick trip to the spa, then remodeling your bathroom may be a perfect way to make that dream a reality. Your current bathroom may not have a spot to store your towels, or a place to set shampoo bottles in the shower. Whatever the shortcomings of your current bathroom, a customized remodel could be your solution. With smart storage solutions and the shower or bathtub of your dreams, your bathroom could become a functional and relaxing environment for your entire household.
Your home is your sanctuary. Make sure that every room feels as relaxing and functional as it should by updating your bathroom with help from licensed professionals. Whether you are looking to add value, comfort, or functionality to your home, the Flathead Valley remodeling experts at Lost Creek Construction are here to help you make your goals into reality!